Regular price
Sale price
$39.95 USD
Unit price
per
Sale
Sold out
When the demands of daily life create stress, recover your mental wellness and balance with natural support from our all-organic liquid drops Balance formula.
Active CBD Strains in Springhill Farm's Balance formula: Cherry
Discover the unique properties of each strain here.
Choose from two strengths: 500mg (daily maintenance) or 2000mg (medical strength). See "How to Use" below for daily dosage calculation instructions. 
Share
How to use

Use dropper to place desired amount in your mouth and swallow. Everyone has different tolerance levels. Start slow until you find your desired effect.

Our droppers have precision line markers at .25ml / .5ml / .75ml so you can accurately measure to achieve your optimal daily dosage.

How to Determine Your Daily Dosage:

For Daily Maintenance - Select 500mg strength

Minimum recommended: .25ml (contains 5mg active ingredients)

Maximum recommended: 1ml (contains 20mg active ingredients)

For Extra Strength - Select 2000mg strength

Minimum recommended: 1 ml (contains 60mg active ingredients)

Maximum recommended: 2.5ml (contains 150mg active ingredients)

 
Ingredients

Hemp Flower Extract, MTC oil (coconut oil)
View full details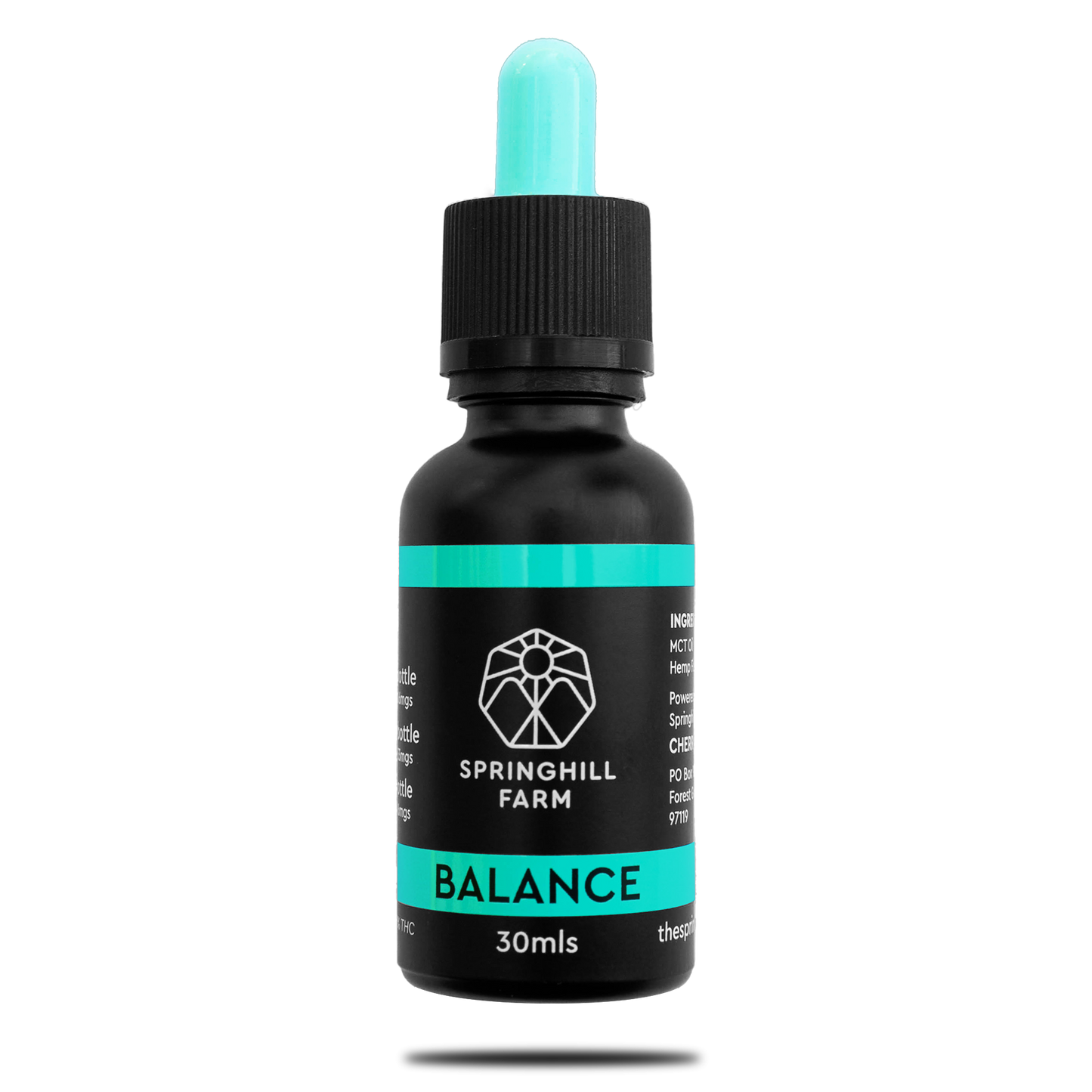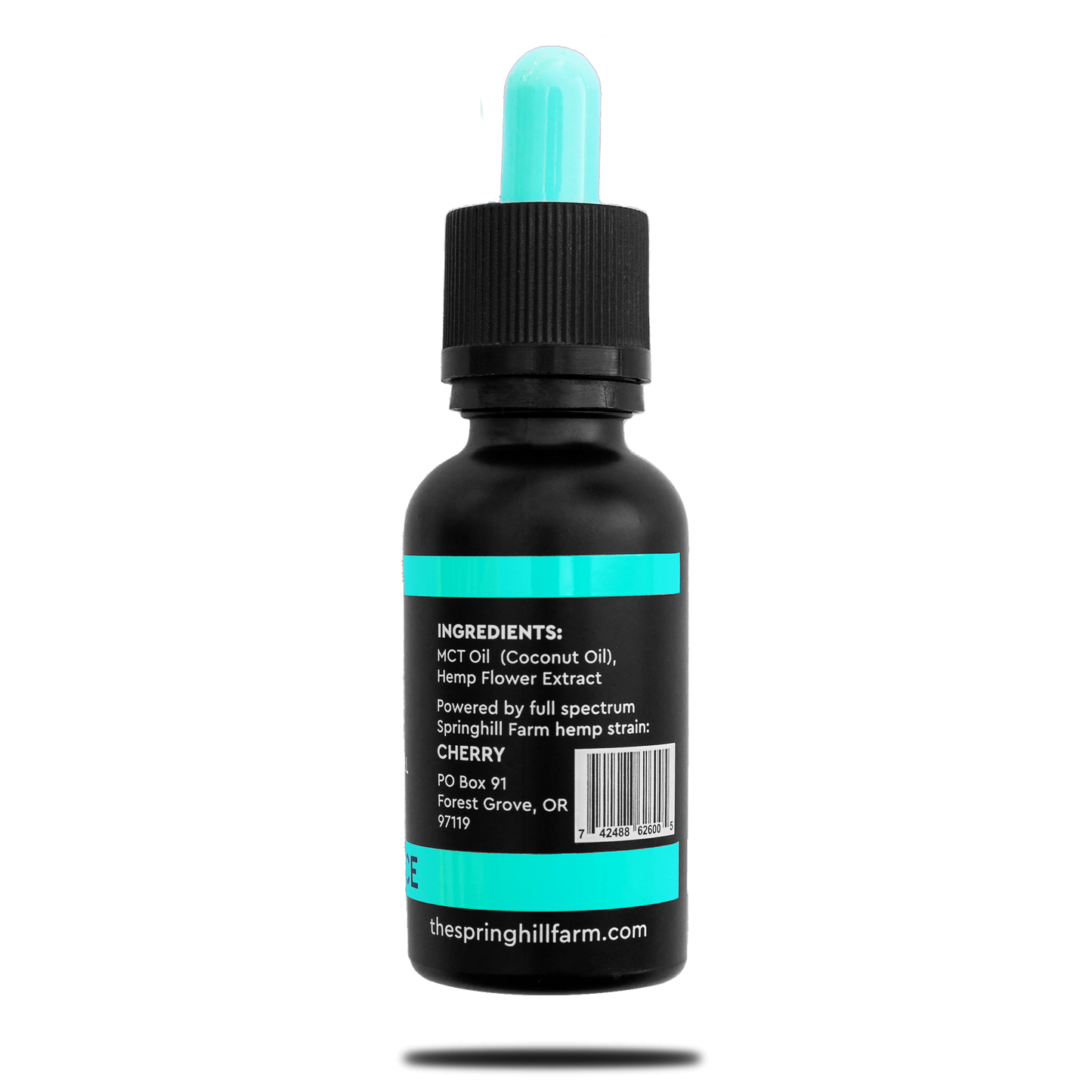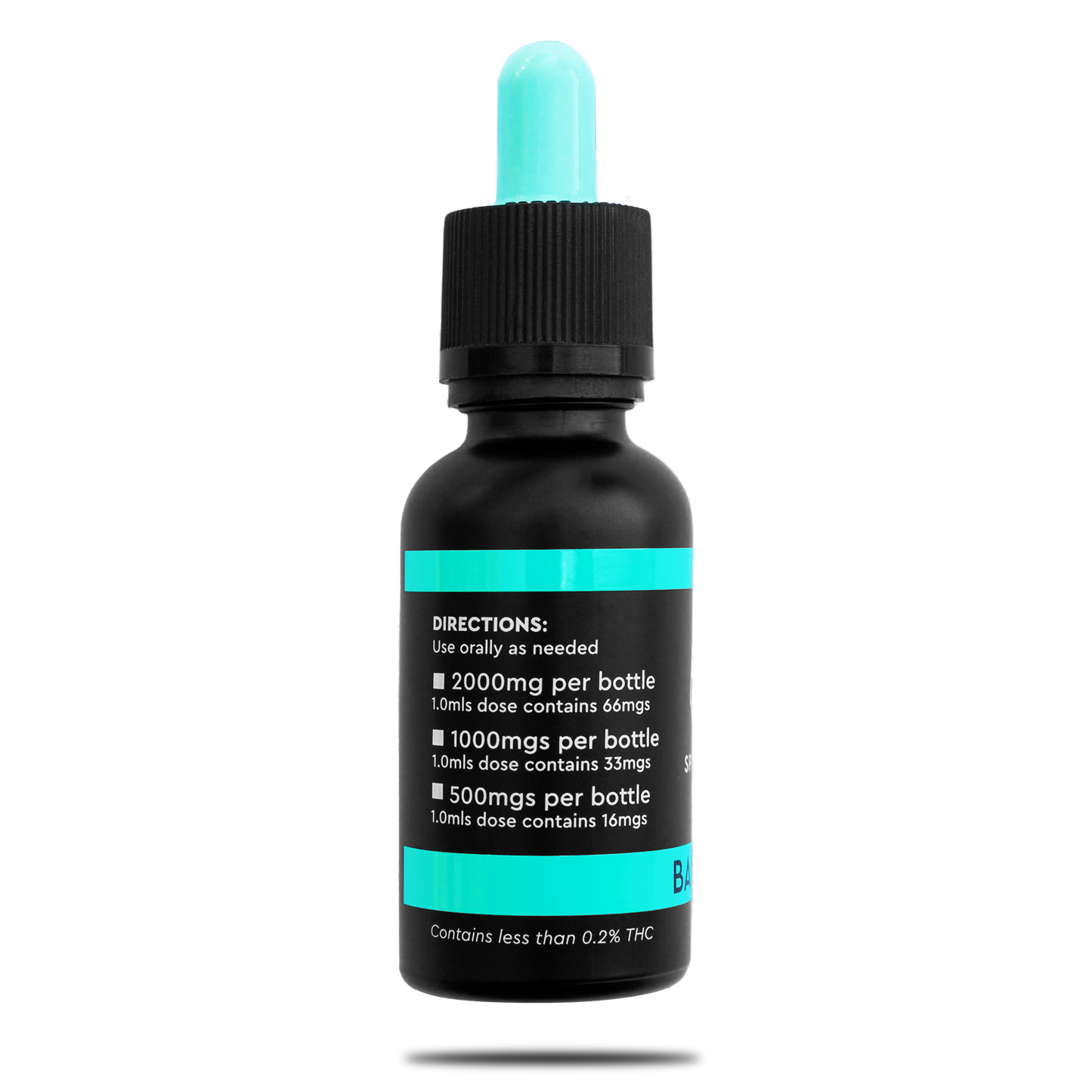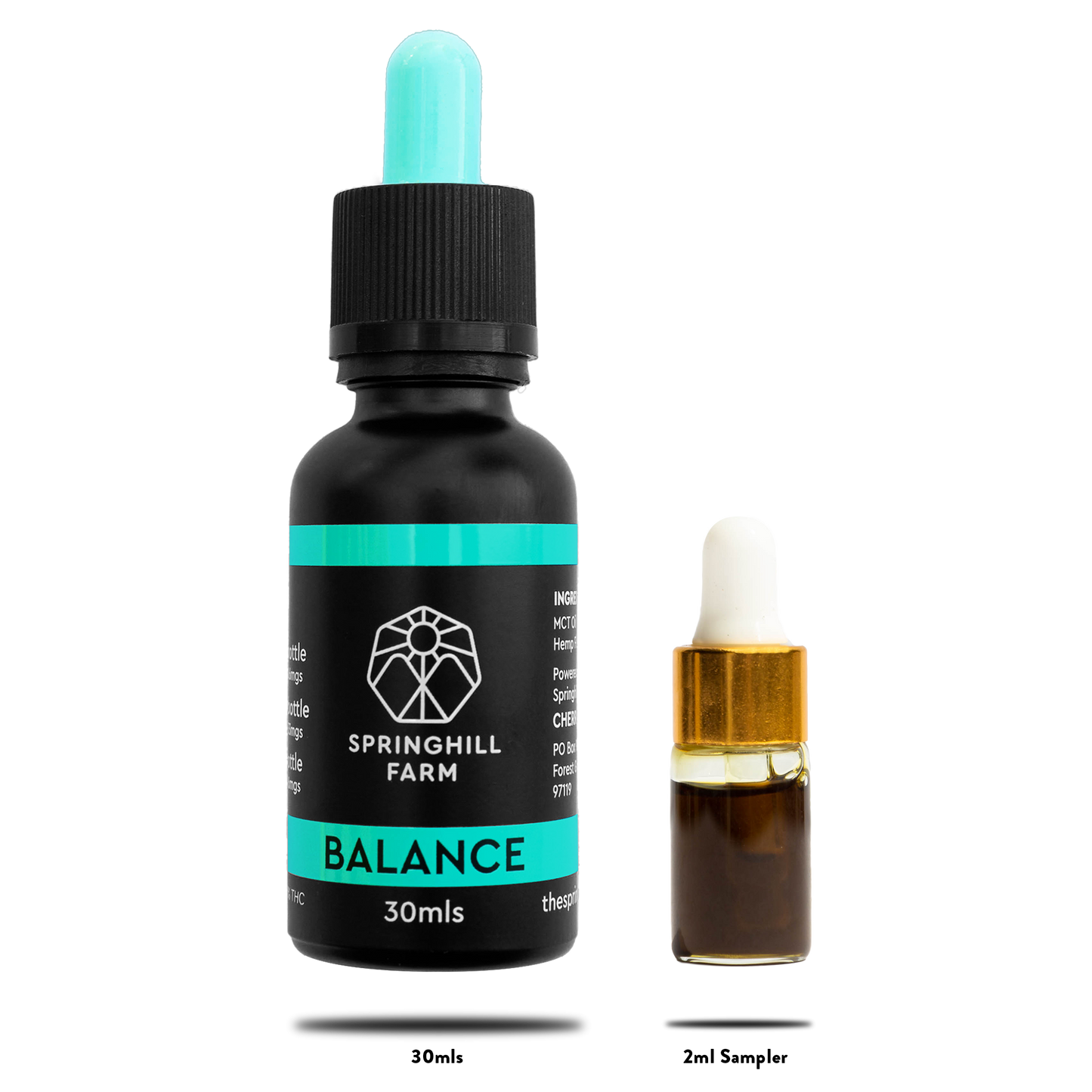 Perfect for getting stuff done
My two go-to strains are Wife and Cherry--Wife for nighttime, Cherry for daytime. Balance is accurate--I use these Cherry drops when I need relaxed energy and calm focus to complete an assignment at work (I'm a writer for print and web). A few drops under the tongue, a little Massive Attack in my ear, and I'm good for a few hours. Highly recommend these drops if your job (like mine) is spent clackity-clacking on a computer all day. Also great for running errands and puttering around the house on the weekend!
So helpful in pain and anxiety management for performing athletes!
Short n' Sweet:
I keep this Cherry strain, usually the 500mg, sometimes higher, in my dressing room to have during rehearsal processes and during shows for general stress reduction/management, both physically and mentally. In times when I require something more impactful, the AC/DC 2000mg works really well for me!
Long Sharing:
After experiencing two very hard falls during two different musical/dance shows in 2019, I knew I needed to find ways to deal with some muscular pain and dysfunction happening in my body. I was experiencing intense muscle spasms, along with what felt like burning nerve pain, and sporadic sensations of what felt like a weird sleeve of expanded tingling energy going from neck/shoulder down my arm... and I couldn't take a break from being active, because my show was moving to Broadway.
I have tried CBD tinctures before, and experienced some mild relaxing effects, but I hadn't necessarily noticed whether it helped significantly...it seemed to sometimes help relax me to get to sleep, and that was about it. I couldn't necessarily tell if those helped reduce inflammation physically...maybe? With the brands that I ordered online I've felt uncertain about whether they actually test and regulate their dosage etc (so many make claims and don't actually have the quality they may lead you to believe it contains)...and apparently many companies aren't regulating their products, so one may never quite know the dosage or if they're getting a decent quality product.
Being familiar with the owner, and trusting his desire to make high quality products, I tried these Springhill Farm CBD liquid drops- in hopes that it may help me through the intense rehearsal and tech/preview process. I began using them on and off during the rehearsal process (some of us began with an intensive dance week before we all began, and we were moving/dancing anywhere from 4-7 hours a day), and I was pleasantly surprised by its effectiveness!
Having now experimented with different strains of the liquid CBD drops, I am delighted to share that SpringHill Farm CBD is the first one that I, personally, have actually had a noticeable physical minimization of pain with.
It helped reduce the nerve tingling during my pre-pandemic rehearsal process. I hardly noticed that sensation at all, and the spasms and burning considerably reduced when using this regularly. And when I did not have my normal work-load during the pandemic, I experienced an incredible amount of traumatic and anxiety producing events- not only the global anxiety and emotional shifts that the pandemic period brought about, but massive grief from losing 16 people in 27 months, and nervous system dis-regulation due to construction outside of my window for 6 days a week from 7am-6pm... it wasn't a cure all, but the CBD really helped me with some anxiety management, and sleep. And when the live entertainment industry returned to work, I still was able to use the daytime CBD to help my nervous system with the increased demand both physically, mentally, and emotionally.
I know a lot of other Broadway athletes are constantly seeking ways to manage the high load of activity that we put our bodies through our often physically intense lifestyle (from the intense rehearsal/tech/preview/then 8 shows a week lifestyle) - I highly recommend giving this stuff a try - to help with pain reduction, anxiety reduction, as a sleep aid, or for general relaxation assistance. I highly recommend giving these liquid drops a try!
I have tried Wife, Jupiter, AC/DC, Cherry in liquid and gummy form, and the Sweet Purple Grape in gummy form- I can't tell if the gummys work, but the tinctures really work for me!
My favorite tinctures are the AC/DC and Cherry daytime variations. I use the AC/DC 2000mg for periods of higher pain, which works best for me as an athlete; and I use the 500mg Cherry in my dressing room for general stress/anxiety support. The Wife and Jupiter are good for some pain reduction and sleeping, though I personally get dry mouth and wake up with mildly puffy eyes, so something in my body chemistry (I have a lot of random allergies and sensitivities) reacts to those strains, but they are still helpful when I don't care about a little dry mouth n' such. I highly recommend giving the tinctures a try for whatever ails you!
Also, the rub and roll-ons are fantastic to keep in my purse and in my dressing room for days when I get aches and pains, whether from life or my athletic activity.
Significantly reduces chronic lower back and shoulder pain
Makes me feel calmer, less anxious and significantly reduces chronic lower back and shoulder pain.
Makes me feel calmer and less anxious
I tried the highest concentration of CBD (2000 mg per container). A few drops give a sense of relief and inner peace without being high.
You can carry on with your normal daily activities including going to work. There is no noticeable psychoactive effect.
Finally it helps quit "green" smoking. The cravings are gone with CBD
Makes me feel calmer and less anxious